New project activities in the DTS project
Written by Dejan Zekavicic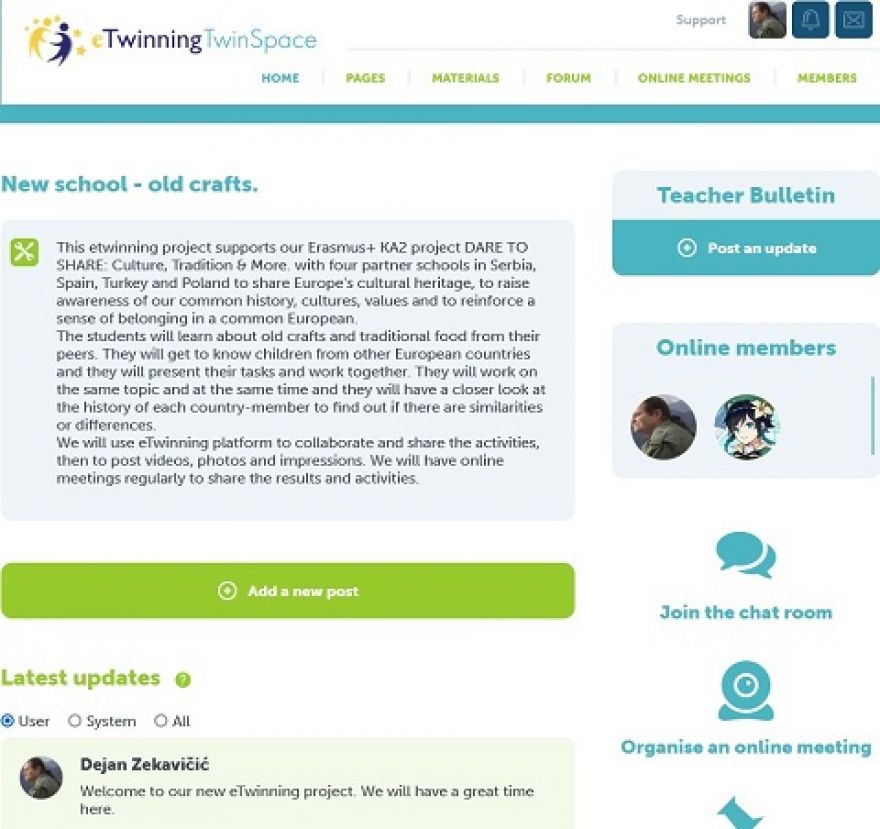 With the beginning of the new school year, a new meeting of DTS project coordinators was held.
Unfortunately, our former associate from Turkey, Ilknur, changed the school and therefore can no longer be the coordinator, so a new  coordinator, Sibel Aksu, was appointed by the principal of their school. Ilknur promised that she would introduce her new colleague to the job and that she would provide us with the necessary assistance, especially during the preparation of the final report, so that we could successfully bring the project to an end at the end of the school year.
The coordinator from Poland, Justyna, has launched a new eTwinning project called New school - old crafts, whose Twin Space will be our base for online materials this year. Students are added, so that when everyone gathers at that place, the planned activities can begin. The students were given the task to log in, first change their avatar and write a word of welcome, as well as to start a couple of general discussions on the forum regarding their interests as school, music, favorite food, etc.
We talked about travel options. The first next destination was supposed to be Turkey, however, due to the large number of infected people on a daily basis in Turkey, a proposal was made to go to Spain first, preferably at the end of November. However, there were doubts about things like PCR testing, since we received information that it is very expensive to be tested in Spain and that it is mandatory for visitors to be tested twice. As it is not even certain whether everyone will be allowed to travel due to the increase in the number of infected, we left that discussion for the next meeting when we gather additional relevant information. The students first need to ask their parents if they are allowed to travel during the pandemic.